Revlon Super Lustrous - Creme Lipstick, Black Cherry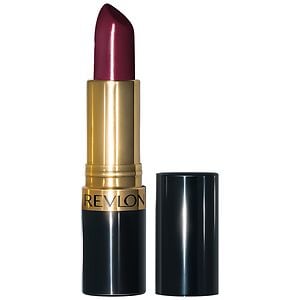 This color is out of my
norm
...really any lipstick is out of my norm seeing as I just started wearing lipstick a few months ago. But the reason why I purchased this lipstick is because I was hearing that it was a dupe of the every popular 'Dark Side' by Mac.
Which is a quite popular color. I purchased this, the supposed dupe, because I didn't know if I would like it and I didn't want to spend the $15 for a color I would only wear once.
Whether I spent $2 or $15, this color is
AMAZING
!
I am so in love with it, so happy I bought it.
Every time I wear it, I just get so many compliments on it. It is just a great all around fall color.
The color glides on super smooth, great color payoff. It is a nice, rich berry purple each application.
As for lasting power, it practically stains my lips. Which, for this color, I
love
. It becomes a cute ombre and the still looks like a fluid color, no spots or blotches.
This I
accredit
to the formula of the lipstick. And because I love the feel of it, I will be trying more colors from this line.
Over all, two thumbs! All the way up! So happy I gave this lipstick a try.
Let me know if you have any Revlon colors that you have and love!
As always, thanks for reading!